Here's some fairy dust, mother fucker.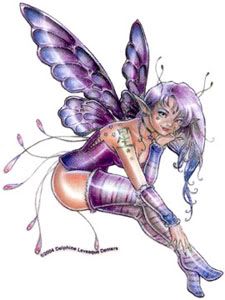 I am just feeling more angry and bitter towards the world lately. Look, here's the deal. I went as a fairy this year, with purple wings and a shiny shirt that shined purple and green and purple hair. Oh yeah, and I was wearing a corset and fishnet stockings and a skirt that was the runner up because I didn't have time to finish the other one I was making. Why didn't I think of the hot glue gun sooner?
I'm not actually cute or anything in any sort of way, and i aknowledge this. Which is why I started drinking as soon as I got to Kara's party this way I wouldn't MIND that I was the ugliest person there. However after the ENTIRE DRINK CUP full of Captain Morgan's, I didnt mind so much that I'm ugly, I just was happy that I was wearin' purple and I had big wings.
I don't know. I wish I was pretty and cute and had purple hair for real. It's why I liked Crystal from She-Ra when I was a kid, and it's why I like My Little Pony (and the cute images on their asses). Trust me, if wishes were fishes, I'd be so fucking cute you'd go into a diabetic coma just looking at me. So there.
After you bite me, think happy thoughts and fly, asshole.